After grabbing some breakfast in my previous post, Alice and I decided to go and explore the Fringe Festival!
The Fringe Festival
There was a lot to explore, so I'll simply include a gallery below!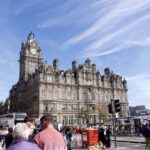 ---
Over the next few weeks, I'll be uploading a blog post periodically about our wedding trip (I'll aim for every weekend). You can find more here, or the latest posts below!